« Back to Glossary Index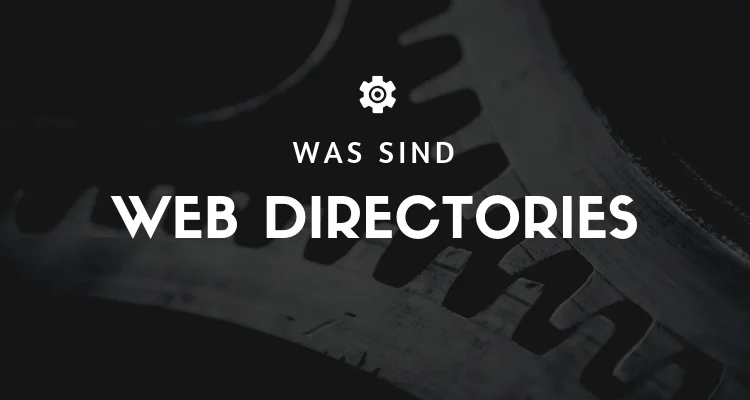 What are Web Directories?
Long before Google, Bing, and other search engines appeared, web directories were developed to help people more easily find information on the web. Beginning in the early to mid-1990s, the popularity of web directories grew rapidly, leading to early pioneers including Yahoo! Directory and the Mozilla Directory (DMOZ). But soon companies like Google emerged to offer people an automated way. To search the rapidly expanding company, which ultimately led to a decline in popularity.
However, for years, directories have been used by many in the SEO and Online Marketing-world as a way to find and share content. Backlinks and authority for websites. Until 2007, there were still many high-quality directories that could be used both for a fee and for free. But soon Google began penalizing mass directories that had grown in the thousands, as many offered little value to users and mostly served as link building systems. And quickly we saw a fairly rapid transition away from the use of directories by many in the SEO space as they were wary of the Google penalty risk associated with them.
How are directories bad for SEO and which web directories should be avoided?
Back in the days when directories were largely considered a reliable way to build Backlinks to websites, it was common to submit a website to many different directories for inclusion in specific categories for a particular industry. But as the trend gained momentum, you saw many thousands of "fly-by-night" directories (like Matt Cutts of Google likes to call them) that popped up to offer their services, usually for a fee.
Many of these directories were automated sites (as opposed to the carefully edited ones of the past) designed to make a quick buck and not necessarily help people connect with the content they needed. In addition to these schemes, you also had cheap SEO services offering to submit in bulk to hundreds or thousands of directories without bothering to submit to quality and appropriate directories while promising a higher page rank in search engines.
So, what types of directories should you avoid these days? Here are some characteristics of bad directories:
The directory accepts all links or simply says "submit your

URL

" - If a directory accepts all or the majority of submitted links, this should be a warning that the site was likely created for the sole purpose of link building and carries no SEO weight and could be problematic.

Keyword

-anchored links - If the website allows keyword-anchored links, this is a sign that Google considers it an unsafe source of links, even if your link is considered a

URL

would be listed.
The name of the directory indicates that it was created for links -. Stay away from these obvious schemes, as well as those that have already been banned by Google but may still be functional.
The directory advertises a high

PageRank

(PR) - This is a clear red flag that the page was created only for links and is not useful for humans.
Are web directories still a worthwhile SEO measure?
Now that we know what to avoid with directories, the question remains: are there any directories left that are worth the effort? While some may argue that links from a directory are by definition unnatural because they are self-generated, Google still seems to consider a handful of directories acceptable. By sticking with the few that are still considered trustworthy and competent, many in the SEO community still believe that you can get "high quality"Link Juice" to your website and can help improve your rankings. Of the few remaining quality directories, here are some of the most important (which are not necessarily niche or industry specific) that are still considered reputable and have SEO importance:
YellowPages
DMOZTools
BlogCloud
(more to follow...)
Now these are more general directories, as opposed to local directories or niche directories that most SEO professionals find useful.
How much do backlinks from web directories bring me nowadays??
Links from these Web Directories are still important for SEO, because they come from a reputable source, they are not easy to obtain and because there is still a significant volume of traffic through you. So, what parameters should you think about when considering a directory?
Relevance

for your company - You should make sure that both the directory and the category in which you are listed are relevant to your business. In some cases, local directories or industry-specific niche directories may be more useful.
Does the directory check the entries? - Directories that

URL

-review and edit submissions are considered higher quality and more rewarding, even though they may take longer to process.
Frequently updated - Another good sign that a directory is well maintained and not a link exchange scheme is that it is frequently updated and revised.
The Web Directories have evolved dramatically over the years, and while their usefulness has declined, there are still a few that can be useful for SEO. By avoiding the link slingers that offer little to no SEO value, you can save yourself a lot of time and headaches. Submitting to the few remaining reputable ones and the ones that are most relevant to your business and industry can still prove useful in helping people find your website and your Ranking Improve. The key, as with most strategies, is not to put all your eggs in one basket and expect that inclusion in a particular directory will provide guaranteed SEO success.
Examples
Here is a table with 20 German Web Directories:
Conclusion
Web Directories are a very useful way to organize and categorize websites. They provide users with an easy way to find the different websites they are looking for and to inform and promote webmasters about their websites. However, most Web Directories subject to a fee, and it may take some time before an entry is released.
« Back to Glossary Index