« Back to Glossary Index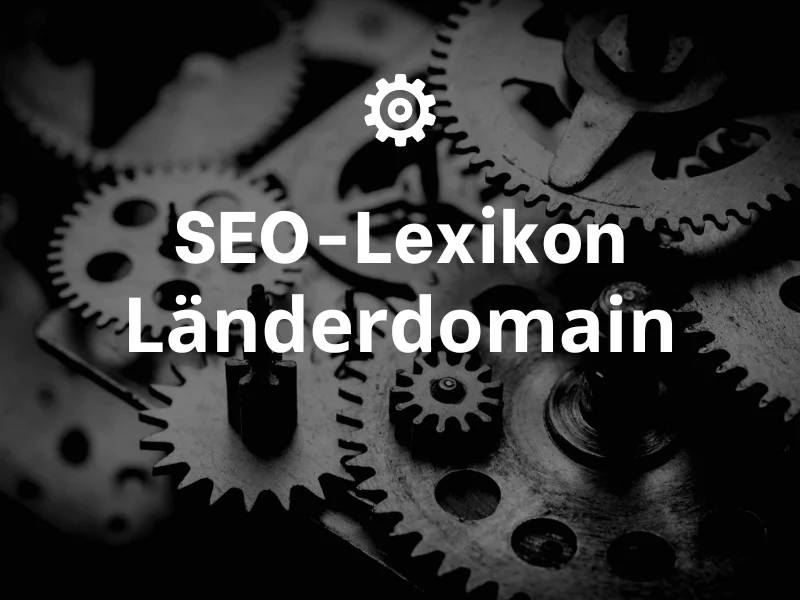 Definition
A Country domain is a top-level domain (TLD), which is assigned to a specific country. It acts as a unique identifier for websites that target users in a specific country. Examples of countriesdomain extensionen are .de for Germany.uk for Great Britain and .jp for Japan.
Advantages of country domains
the use of a Country domain (also ccTLD called, for "Country Code Top-Level Domain") brings some SEO and marketing benefits. Let me explain this to you with a few points:
Geotargeting
Google & Co. take the Country domain as a strong signal for the Relevance in a certain geographical area. So, for example, if your website has the domain ".de", it will be listed in Germany probably rank better.
Trust
People often trust websites more that have a familiar Country domain have. Imagine you are in Germany and are looking for a local restaurant. Would you rather "tasty-eat.de" or "delicious-eat.com" trust?
Local competition
In a smaller, locally defined market, you can often have an easier time beating the competition than in the big, wide ".com" meadow.
Easier branding
Sometimes it is easier to have a concise and memorable domain name in a specific Country domain because there is less competition there.
Relevance
If your business or content is strongly focused on a particular country, it makes sense to signal that through the domain as well.
Taxes & Law
Now this is not directly SEO, but depending on the business, there may be tax or legal advantages to using a domain from your own country.
Disadvantages?
Yes, there are those too. One Country domain can make it harder to rank internationally. And you might have to do the work of maintaining different versions of your website for different countries.
Think of it like a shop window facing directly onto the main street of your city. All the locals will see it and probably come in, but the tourists from other countries might miss it.
Use cases
Country domains are especially good for companies that target a specific country. They can also be helpful if companies operate in multiple countries but have a single website. Country domains are also an important tool to improve local search engine rankings.
Examples
| Country domain | Country |
| --- | --- |
| .us | United States |
| .ca | Canada |
| .uk | United Kingdom |
| .de | Germany |
| .fr | France |
| .es | Spain |
| .it | Italy |
| .jp | Japan |
| .cn | China |
| .ru | Russia |
| .br | Brazil |
| .au | Australia |
| .in | India |
| .za | South Africa |
| .nl | Netherlands |
| .se | Sweden |
| .ch | Switzerland |
| .mx | Mexico |
| .ar | Argentina |
| .nz | New Zealand |
Conclusion
Country domains are a great tool for providing users with a local brand experience. They also help with targeting users in specific countries and with the Search engine optimization. However, they can be expensive and difficult to manage. Nevertheless, they can be particularly useful when companies operate in multiple countries or want to have a strong local presence.
« Back to Glossary Index