« Back to Glossary Index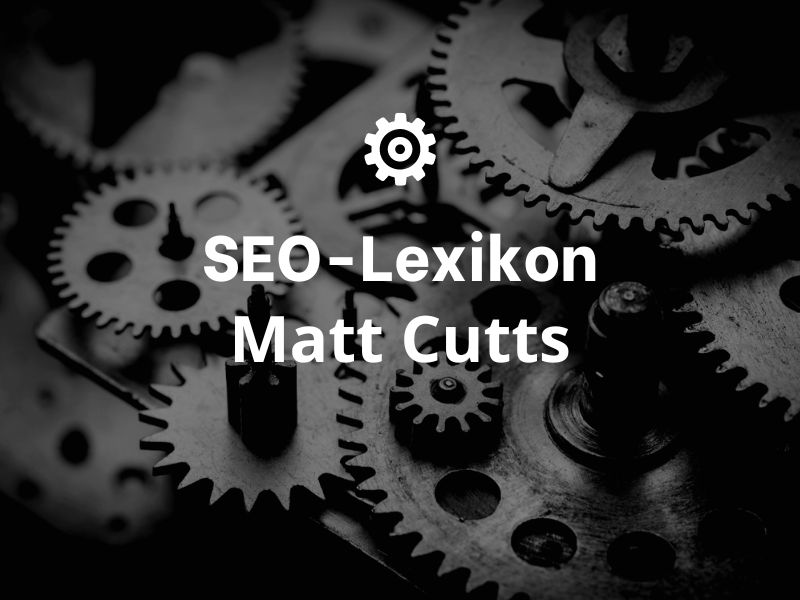 Matthew Cutts has worked as a software developer at Google since January 2000, leading the Webspam team responsible for improving search quality. For many years he has been providing Matt Cutts the public information on the Search engine optimization of websites available. With hundreds of videos on his YouTube channel and constant contributions to webmaster forums such as WebmasterWorld or specialist portals such as SearchEngineLand, he gives webmasters and website operators valuable first-hand tips on how the Google-Ranking-system really works.
Matt Cutts is the best-known public voice against link spam and other unethical practices aimed at improving search engine rankings. His motto "design content for users, not for engines" should remind every webmaster that those websites that provide quality useful content are the most important and will be ranked the highest. Not those that try to manipulate the search engines and only annoy users.
Career
Matt Cutts graduated from the University of Kentucky with a bachelor's degree in mathematics and computer science. He then completed a Ph.D. in computer graphics at the University of North Carolina Chapel Hill. After additional training in the Department of Information and Library Science at the same university, he switched to information retrieval and came to work on search engines.
At Google, he initially worked in ad development before moving to the Search Quality Group and eventually becoming head of the Webspam department. Cutts is also a registered co-inventor on a Google patent for information retrieval based on historical data.
Matt Cutts and Google
Although Google has Ranking-criteria is not publicly disclosed, was allowed to Matt Cutts publish his advice in his own words. The following disclaimer can be found on his blog: "I'm one of several Googlers who answer questions online and sometimes for the press. Mostly I handle questions about webmasters or SEO, so in those areas I'm more likely to say something useful and less likely to say something stupid. If I post something here that helps you build or manage your web presence, that's wonderful. But when push comes to shove: this is my personal blog. The views I express on these pages are mine alone, and not those of my employer."
Google hit the headlines in early 2012 for launching a campaign for the company's own Google Chrome-Browser had violated its own guidelines. It was Matt Cutts, who defended the lowering of Chrome's PageRank to the press and explained that Google does not give itself special treatment.
« Back to Glossary Index