« Back to Glossary Index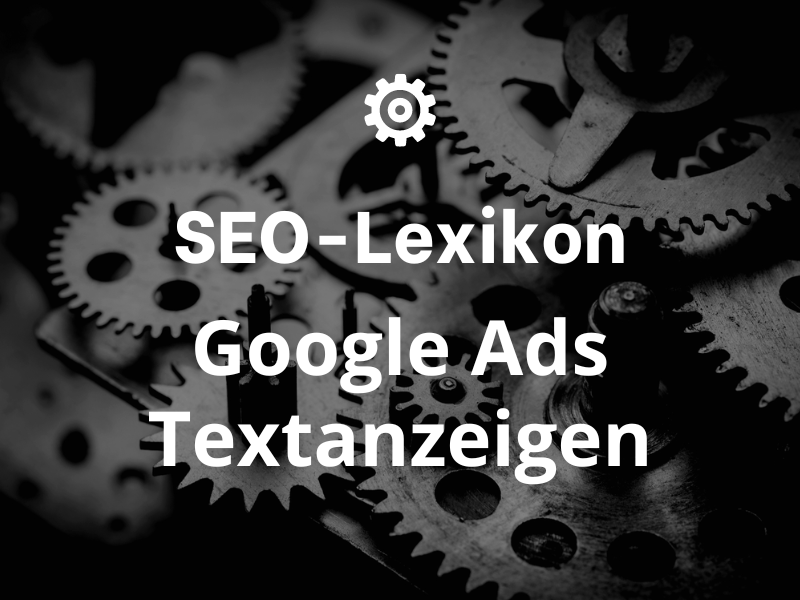 Definition
Google Ads Text ads are short ads that Google AdWords customers can display in search engine results or on web pages. These ads are an important part of search engine marketing and are usually driven based on keywords that the ad creator chooses.
Advantages
Google Ads Text ads offer a number of advantages. First of all, they can be a very effective way to attract potential customers to a website. In addition, they can be very cost-efficient, which makes them especially attractive for small businesses and startups. Text ads are also very easy to create and manage and can reach a wide range of audiences.
5 advantages of Google Text Ads:
Targeting options: With Google Text Ads, you can define your target audience very precisely by using keywords that are used by your target audience, as well as demographic and geographic restrictions. This allows you to reach only those users who are really interested in your offer.
Flexibility and scalability: Google Text Ads are very flexible and scalable, you can adjust or set them at any time as your budget and goals change.
High visibility: Ads appear on the first page of Google search results, which means that they are seen very often by users. Since Google is the most used

Search Engine

you can reach a very large number of users with text ads.
Measurability: Google Text Ads offer extensive measurement capabilities that allow you to accurately track and analyze the performance of your ads. You can see how many clicks, impressions, and conversions your ads are getting, and use the data to optimize your ads and get better results.
Cost Efficiency: Compared to traditional advertising methods, text ads can be very cost-effective. You only pay when someone clicks on your ad, and you can always adjust the budget for your ads to make sure you stay within your budget.
Disadvantages
A disadvantage of Google Ads Text ads is that they can only contain a limited amount of information due to the limited space available on the display. In addition, they can have the following disadvantages:
Dependence on Google: Google text ads are completely dependent on Google, which means you don't have access to users who don't use Google. So, for example, if your target audience is mainly on other search engines, Google Text Ads probably won't be the best choice.
High competition: Since Google text ads are one of the most popular advertising methods, there are often many companies competing for the same keywords and placements. This can make it difficult to stand out from the competition and get good results.
High cost: While Google text ads are generally considered cost-effective, costs can rise quickly, especially for high-demand keywords or industry-specific terms.
Learning curve: It can take some time to familiarize yourself with the various features and capabilities of Google Text Ads and set up a successful campaign.
Click Fraud: There is always the risk of click fraud, which is a practice where fraudsters click on ads without actually being interested in the offer. This not only leads to higher costs, but also affects the accuracy of ad analytics and performance measurement.
Use cases
Google Ads Text ads can be used for a variety of situations. For example, they can be used to draw customers' attention to a website, to get more Traffic to generate. They can also be used to provide goods and serviceservices to advertise and sell.
10 examples of Google text ads:
Advertising an offer: "Get 50% off your next order at [store name] now".
Advertising for a new product launch: "The new [product name] is here! Get it now and enjoy [product benefits]."
Advertising a service: "Need help with [service description]? We provide professional assistance at affordable prices"
Advertising for an event: "Don't miss out on [event name] on [date]! Get your tickets now"
Advertising for an app: "Download [app name] now and simplify your everyday life with [app features]."
Advertising for a trip: "Discover the beauty of [destination] with our exclusive limited-time offer."
Advertising for a sale: "Grab your favorite items at unbeatable prices at our [name of sale]"
Advertising for membership: "Join [club name] now and enjoy exclusive benefits and offers."
Advertising for a free sample: "Try [product name] now for free and see its quality for yourself".
Advertising for an online consultation: "Do you have questions about [topic]? Get online advice from our experts now"
Note that each ad has a clear message and a call-to-action. Choosing the right keywords and optimizing the ads are also important to get the best possible results.
Conclusion
Google Ads Text ads can be a very effective way to attract potential customers to a website. They can be cost-effective, easy to create and manage, and reach a wide range of audiences. However, they can sometimes be difficult to manage due to limited display space and fierce competition.
« Back to Glossary Index