« Back to Glossary Index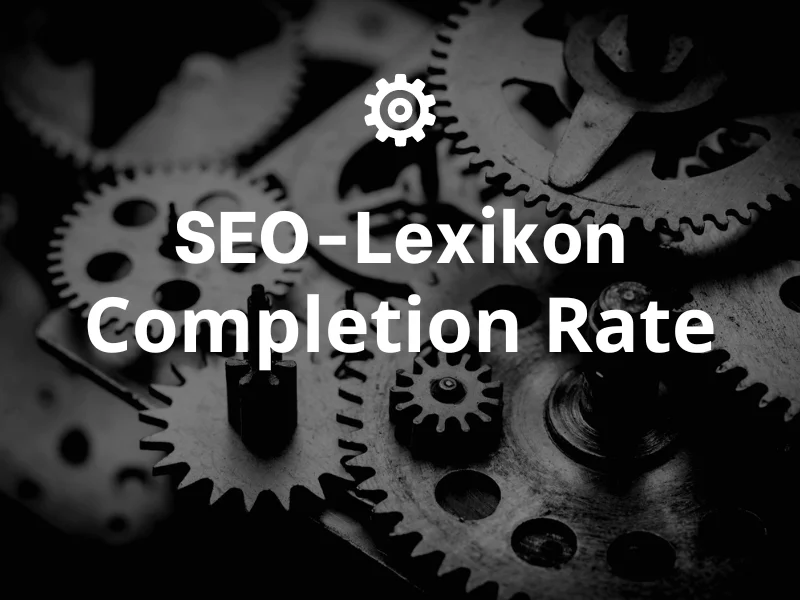 Definition
The Completion Rate (CR) is a key performance indicator that measures the number of successfully completed activities versus the number of started activities. In general Completion Rate calculated as a percentage by dividing the number of operations successfully completed by the number of operations started.
Advantages
The Completion Rate is a very useful metric as it gives companies a clear insight into the performance and efficiency of their business. By comparing the number of successfully completed operations to the number of operations started, companies can take the necessary steps to improve efficiency. Further, it can help companies identify all the factors that affect the Completion Rate affect, and take appropriate measures to improve them.
Disadvantages
A disadvantage of the Completion Rate is that it is only one part of a bigger picture. There are many other factors that influence how efficiently a company operates, and the Completion Rate cannot reflect all other factors. To get a complete picture of business performance, other key performance indicators, such as customer satisfaction, must be taken into account.
How can the completion rate be optimized?
A high Completion Rate basically means that users are happy and do what you want them to do - whether it's completing a purchase, filling out a form, or finishing a tutorial. Here are a few tips on how you can rock it:
1. UX/UI Design:
Why is this important? An intuitive design gently guides users through the process. What to do? Use clear CTA buttons, work with contrasts and keep the process as simple as possible. For example, if your checkout is like a maze, everyone will get lost.
2. progress indicator:
Why is this important? Users like to know how far they are and what is still to come. What to do? Use progress bars, especially for longer processes. Imagine you're doing a survey and don't know how long it will take - annoying, right?
3. error messages:
Why is this important? Nothing is more frustrating than an error message you don't understand. What to do? Provide clear, understandable error messages and troubleshooting instructions. Something along the lines of "Hey, your email looks weird. Did you forget the @?"
4. loading times:
Why is this important? Long loading times are an absolute flow killer. What to do? Optimize the speed of your website. Tools like Google's PageSpeed Insights can help you do that.
5. A/B testing:
Why is this important? Because otherwise you're just guessing instead of making informed decisions. What to do? Test different variations of your page or app to see which performs best. Is a green button better than a red one? Just one way to find out!
Bonus: User feedback
Why is this important? Nobody knows the weaknesses of your site better than the users themselves. What to do? Conduct surveys or install a feedback tool.
Think of it like a date: You want the other person to feel comfortable, know what's coming next, and ideally stay until the end, right? 😏 So, work on these points and you'll see that your Completion Rate shoots up.
Good luck with it! 🚀
Use cases of Completion Rate as a KPI
The Completion Rate is one of those KPIs that can really show you how well certain areas of your website or app are performing. It tells you how many users have followed through to the end of a particular action. And that can be super important for a variety of purposes. Here are a few use cases:
1. e-commerce and check-out processes:
Why is this important? If people get stuck in your online store and abandon the purchase, you lose moolah. How to measure? You track how many people go through the check-out process from start to finish.
2. application and registration forms:
Why is this important? The easier and smoother the signup process, the more users you'll get on board. How to measure? See how many people fill out the registration form completely and submit it.
3. content, e.g. videos or tutorials:
Why is this important? If users watch your content to the end, it's probably valuable and relevant. How to measure? For example, you could track how many people watch a video or tutorial to the end.
4. surveys and feedback forms:
Why is this important? You get the best insights directly from the users. But they also have to be willing to complete the survey. How to measure? Look at how many users complete the survey.
5. onboarding processes in apps:
Why is this important? Good onboarding makes it easier for new users to get started and increases the likelihood that they will stay. How to measure? Track how many new users complete the onboarding process.
It's like cooking. You want to know if people like your dish. If they like the plate blank eat (high Completion Rate), you have done everything right. But let them stand half (low Completion Rate), you might want to rethink the recipe.
So, depending on what's important to you, you can use the Completion Rate for different actions and processes. This gives you a really good sense of where you stand and what you still need to do to improve the user experience.
Example: Online company
For online companies, the Completion Rate one of the most important metrics to measure user experience. This metric measures how many people have successfully gone through the website instead of leaving before reaching their destination. If the Completion Rate drops, it means that the website is having difficulty keeping users on the site. To improve the Completion Rate the company may need to change the user interface to make it easier for users to navigate.
Conclusion
The Completion Rate is a very useful metric that helps companies measure the performance and efficiency of their business. It can also help identify and address difficulties that may affect the Completion Rate impair. The Completion Rate is an effective measurement tool that can be used in different industries and in different use cases.
« Back to Glossary Index