« Back to Glossary Index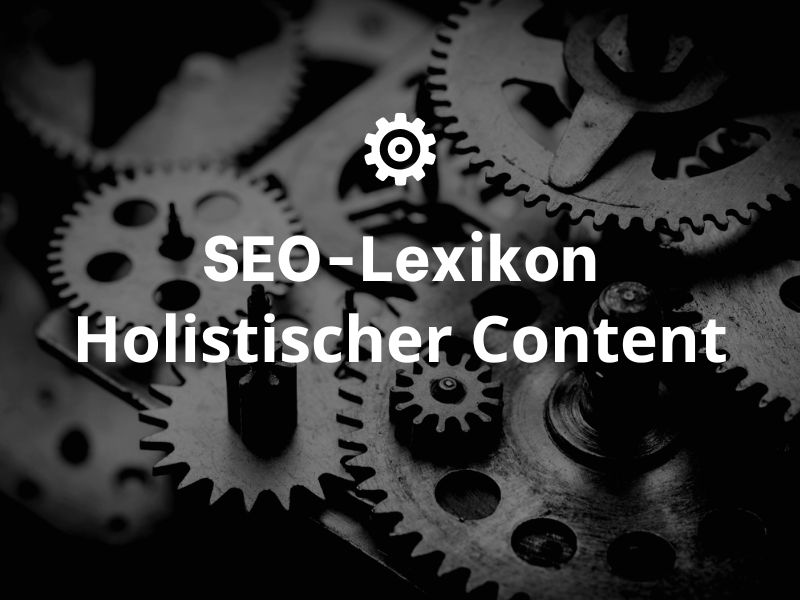 Tasked with creating a content marketing program and don't know where to start? These questions are a good starting point for developing your strategy. If you answer these questions, you'll be well on your way to a content marketing program that justifies a high ROI.
What is holistic content
Holistic content is the new mantra for marketing teams. Marketing teams now focus on the entire Customer Journey and not just on one or two Touchpoints. They are now developing content that is more than just a promotional piece. Brands now demand their Agencyen to develop content that tells the brand story, interacts with customers and builds loyalty
The marketer's job has never been more challenging because there are no cure-all tactics
Introduction of a holistic content strategy
Higher customer loyalty through holistic content
Development of a holistic content strategy
Holistic content is content that takes into account both the digital and physical experiences of the customer. The goal of Holistic Content is to create a seamless experience for customers in both their digital and physical lives.
It can also be defined as providing a complete picture with all the necessary information so that the reader does not have to find it elsewhere.
Holistic content is often used to encompass other types or styles of content that may not fall into one of the three categories above.
Holistic content: why do I need to develop a content strategy?
There's a lot more to content creation than just writing something and sending it out. You have to think about what your company's mission is, what your goals are, who your target audience is, and what exactly you want to accomplish with certain content. You have to do all of this in a specific order, deciding what you want to convey, how to structure it in the right words or visual form, what tools and resources you need to get the job done.
And how you make sure everything does what it's supposed to do and how it's supposed to be done. If you create content without a strategy, there's a good chance you'll miss your target or fail to convey the message you want to get across, and your content creation will fail as a result.
Best practices for developing a successful content marketing strategy
What is the goal/key message of holistic content?
The goal should answer the question, "What do you want to accomplish with the content you create?" For example, do you want the content to attract new customers or move people through the marketing funnel? The core message contains the key concepts and messages about your business that should be included in the content you create.
Who is the target audience for this content?
Is your content aimed at middle management? Senior executives? External suppliers? Internal employees? The sales team? Maybe you're targeting walk-in customers or even your most loyal repeat customers. Depending on your audience, you'll need to tailor the tone and technical level of your content to these specific audiences, and carefully select the platforms on which you distribute and disseminate your material.
What tone should my content have?
Your content can be written in different tones. Content aimed at executives or decision makers should have a formal and professional tone, while content aimed at a younger audience can have a more compelling, informal, or even a colorful or humorous tone. Your tone should reflect your brand and fit well with your target audience.
What time frame should I expect?
Content creation costs time and money, and depending on how quickly your industry changes, you may need more or less content. On average, you should publish at least one relevant, insightful, or educational piece of content every week to stay relevant.
But if you're aggressively trying to grow your customer base, you may need more regular posts and sales content that appears two or three times a week. But beware: many underestimate the time it takes to write a single good post. It takes at least two to three hours to write a 500-word blog, not including time for brainstorming, editing and revising content, and, of course, adding graphics and publishing.
What types of content should be created?
You can write simple blog posts, a miniE-Book on a topic of your choice, create a podcast, or send out a press release if you had an interesting idea or relevant event to talk about with your audience.
If you work in a technical industry, you could even write a white paper breaking down a proposed solution or product and send it out to the public to solicit feedback, criticism and general opinions.
Holistic content: How is the content promoted?
Two of the most popular ways to promote online content are through social platforms (e.g. Facebook posts, which can be promoted on the platform itself through paid advertising or social sharing by a social media manager. Who takes care of promoting the content) and bidding on Google search terms (with AdWords).
You can use one or both of these channels and promote your content on the channel that gives you the most exposure at the lowest cost.
How to split your content marketing budget between creation and promotion
Holistic content: how is success measured?
A lot of content is created to increase brand awareness and visibility. So if you define success in those terms, it's relatively easy to gather basic statistics on social platforms about shares, likes, mentions, audience reach, and total views.
However, since these things don't always translate directly into sales or an improved bottom line, you should measure success using more technical data like actual sales (and where they came from), customer engagement, and turnaround times for things like delivery or customer service responses.
« Back to Glossary Index